The Future is here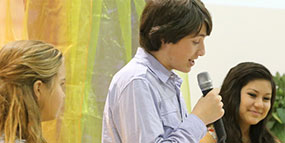 Intro to Buddhism at the Center
Believing in and unlocking your inner potential requires practice. Join us each Wednesday at 7:00 PM and Saturday at 2:00 PM to learn about the practice of Nichiren Buddhism.
Find the Center
Ikeda Youth Ensemble
Make friends in faith and learn to perform from the heart with Ikeda Youth Ensemble! Join us on 2nd and 4th Sundays from 12:30-3:30 PM at Santa Ana Community Center.